Ironman Lake Placid
a swim...a bike...a walk (to remember ?)
July 23rd, 2017
The swim! Obvious to anyone whose been there, Mirror Lake is amazing for swimming. The water is so calm that it's basically a giant pool. For the two lap swim, I started off on the feet of Chad Holderbaum who I know swims a few minutes faster than I can. The pace was quick but my stroke felt smooth. After about 400m I fell off from that pack, and drifted back to the pack behind. I pulled that group for a while until Tim Russell pulled to the front, and then a little later Doug MacLean. I've swam with both of them before and when I do it always results in a good split, so I was quite content to be hanging there. The second lap got SUPER crowded as we passed the age groupers on their first lap. I basically felt like Doug was my lineman plowing out a path. Greg Close and Dan Clarke were also in our group, and no matter what we stuck on the line that Doug made for us. So um, sorry to any age groupers who crossed that line ? We exited the water in just under an hour (non-wetsuit for the pros!) I ran fast to have the lead through the long run into T1, and had a huge smile on my face from the massive crowds cheering ?

Morning sunrise at the swim start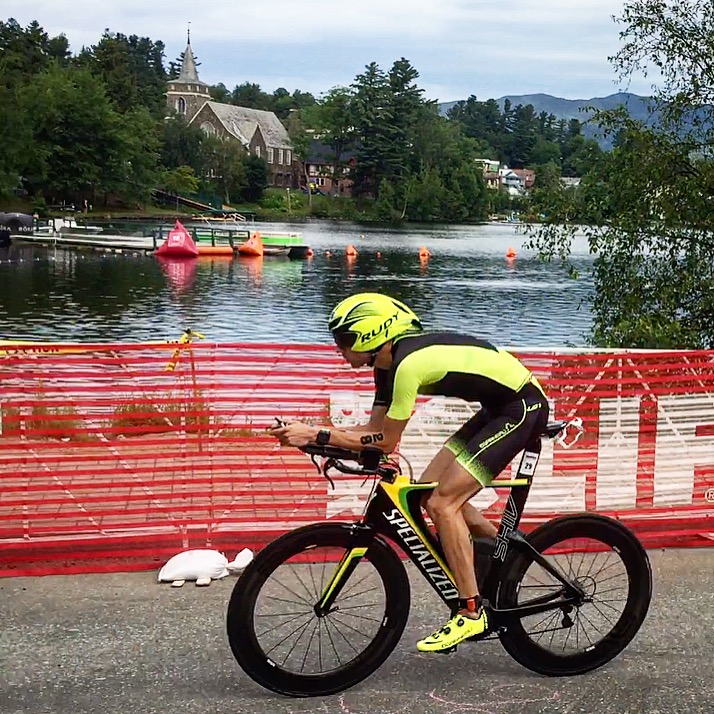 Coming around Mirror Lake to finish Lap 1 of 2
Wow, talk about beautiful! Throughout the course I was enjoying riding along rivers right next to the road, and views of the Adirondack ridges. This might just be my favorite bike course. For my race, I led out of T1 in front of Greg Close and Dan Clarke and started out hard. They passed me not far in and I kept up for a few miles, but realized they were above my ability and they drifted ahead. At a short out and back, I saw I wasn't that far behind Chad Holderbaum and Colin Laughery, and had Doug MacLean and Tim Russell close behind. Many races I've been behind the thick of the pro race, so I was quite excited to be in the mix of it all ? I was also fortunate to have Jon Fecik to ride with for much of the first loop and part of the second. It can get lonely riding for hours on end by yourself! My training on the bike has been very consistent lately, and that really showed here. I was able to hold power 12% higher than I did at #IMTX in April, AND, I held even power on the second lap compared to the first ?? This gave me a sub 5 hour bike split on a tough course ? (Goal was 5:08.) I started the run in 12th place and in good spirits. However there is a bit more to the story.
The "run." Wow... let me start by saying this was one heck of a day, a great experience in a rather miserable and challenging way! Many of you already know the result so I'm dropping into story time. Back in May I did a sprint tri. The last mile was downhill, and afterwards I felt like my legs were beat up. A few days later I noticed a familiar pain from a few years ago... ITBS (Iliotibial band syndrome.) That weekend I raced #IM703Chat, and had a great race including running almost the whole way with Heather Jackson (yes, I know I'm a male pro and "should" be ahead, but no, because she's a rockstar and keeping up with her was a great race for me!) Then my leg hurt more, but I did #IM703Raleigh 2 weeks later... then 2 week later did #IM703CostaRica. And after that, just walking hurt for a few weeks so I didn't run more than a mile until Lake Placid! Great prep huh? By race day my leg had been feeling pretty good, and my plan was to run something like 2 to 6 miles to see how my fitness was running off the bike, with the tiny hope that maybe everything would feel perfect and I'd finish. But more realistically I expected to DNF. My primary goal for this season is at #IMLou, so I didn't want to make the mistake of re-injuring my ITB. I also had a hint in my mind that maybe I'd walk, so I packed extra shoes, socks, shorts and shirt in my special needs bag. ...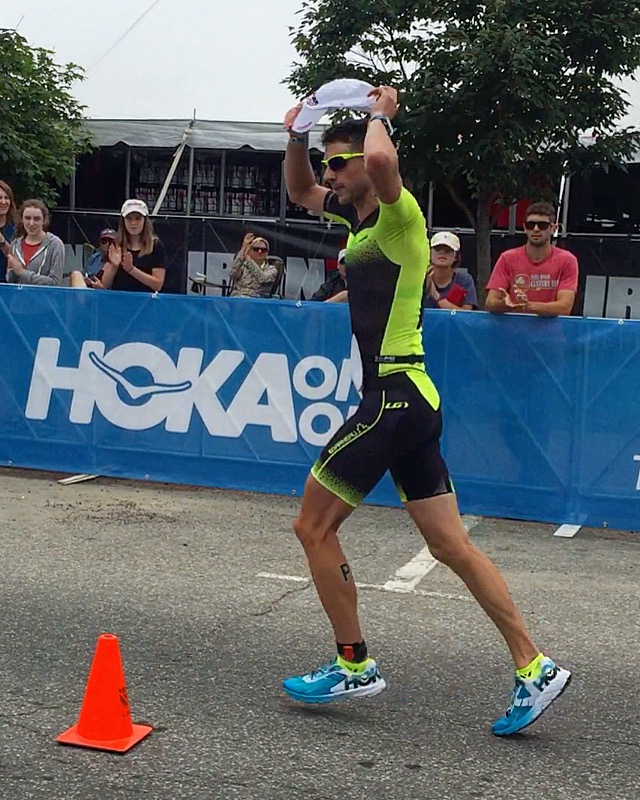 Exiting T2
Now to the race... I came out of T2 in 12th and in a great spirits. I started running optimistically and felt good. Then just half a mile in or maybe less, there's a right turn into a long SUPER steep downhill. I thought to myself "are you kidding me? I want to run! I can't run down that... that's literally the most hazardous thing I could do right now." So I walked down the hill. After that, I kept in mind my main goal was Lou, and I HAD to be smart and not risk jeopardizing my entire season. So I kept walking. .
I could do the math of how long it would take to walk the whole course, but it was so long it wasn't really comprehensible. I thought "well, I can quit later, but for now I'm just going to keep walking." It was cool seeing all my pro friends, many of them doing great. Most of them just laughed at me in a friendly "you're freaking crazy Matt but good luck!" kind of way. .
The miles went by incredibly slowly. By the time I was coming back into town on my first lap, all my buddies were passing me for their finish. Just getting the first lap done was mentally brutal. I saw my coach and Rachel, and each of them told me I didn't need to finish, I had nothing to prove. I agree with them. However I have never DNF'd a race before, and while another lap sounded displeasing to say the least, I couldn't imagine taking off my timing chip anywhere but the finish line. Plus I already walked an insane distance, why not walk another lap! At special needs I changed into a new outfit, and continued on. #sofreshandsoclean
The second lap was an entirely different experience. First lap was surrounded by excitement of the pros, but I felt rather awkward out there just walking. The second lap, my pace wasn't all that far off from the ordinary so it was almost like I fit in. I wondered how many people thought I was an age grouper who underestimated the bike and was fatigued into walking, versus realizing I was 12th off the bike and just walking because my head (and ITB) isn't right! .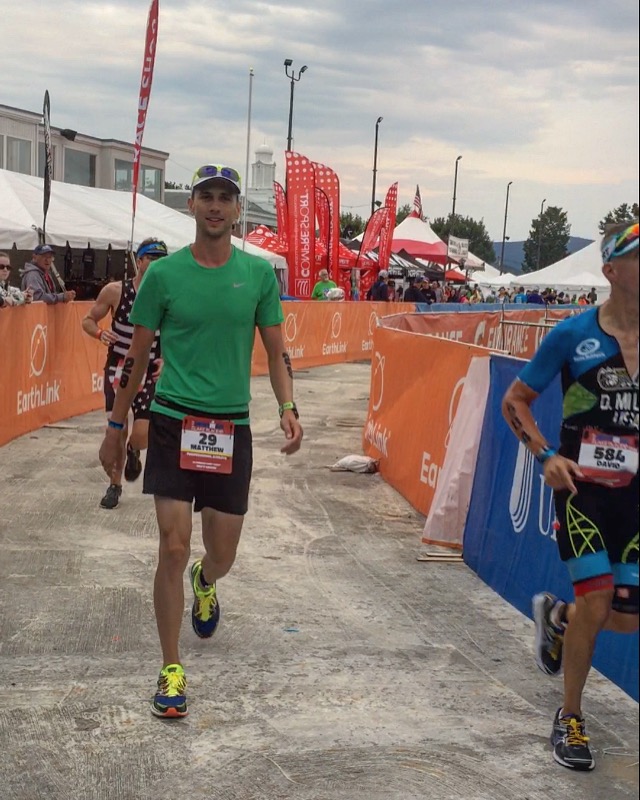 Relieved to see the finish line
I came across some strange circumstances where people asked about the P on my calf (designating Professional.) One lady running by said "is P for pathetic?" I was so confused and slightly taken back. Wait... did another athlete really just dish an insult on me? I've never heard of that before! Was it some strange sarcastic motivation attempt? (What're you pathetic??? You piece of $|*+, run!!!) I had no idea. Probably hours later of time to contemplate this, a man jogging by asked me the same question. I was like, "hold on, what does that mean???" He was like, it's a Facebook group, Pathetic Triathletes, and they put #P on their calfs. Ahhh, ok, it all made sense ??
The miles continued to pass at a tortuously slow rate, and all sorts of things were hurting differently from the ordinary race. My feet, obviously. Hip flexors and hamstrings were tight, fingers got a bit puffy. But I kept on trucking because the longer I went on, the more certain I was in not quitting. Overall it was an entirely new experience. Sure, I've seen people doing the IM shuffle while I'm going back to the hotel after getting dinner after my nap after showering and cleaning up my stuff and getting a massage and eating all the post race food. But I've never BEEN there. And holy moly is that a new perspective to have. I'm in complete awe of the people who put out marathon times like my walk, after being on the course hours longer through the swim and bike. It takes such mental fortitude to endure the push for that many hours on end. .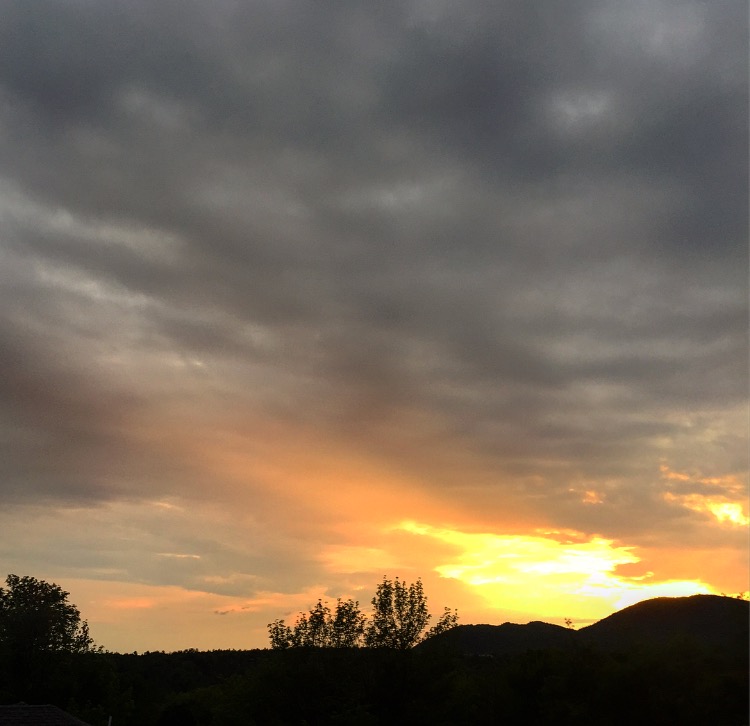 The sunset on our walk home
I can say with certainty that I have no intention to ever walk a marathon again. Obviously I prefer to race the entire distance as quickly as possible... but if I'm ever in a similar situation, I will take the DNF. That said I am extremely grateful for this miserably long and challenging experience. I will remember it forever, and I appreciate the empathy gained for the IM shufflers.
Next race is Ironman Mont-Tremblant! It is coming up quickly, in just 4 weeks after Lake Placid. Since I played this "run" safe I'm optimistic about building my run back soon and hopefully having a good day in all three sports. Thanks for reading!
⬆️  Starting Lap 2 of the swim ?????
⬇️ Pre-race ride (and flat) ?
⬆️ Exiting T2 ?
? check out my pre-race nutrition plan ⬇️
All set to go for #IMLakePlacid. Fortunately I got the weekend's flat tire (and there can only ever be one per weekend ??) out of the way 100 yards into today's easy ride. Good luck to everyone racing tomorrow! . . #MaShR #underdogontherise #IMLP #ironmantri #triathlon #flattire #raceweek #swimbikerun #pro_triathletes #tapintopower
#IMLP bike nutrition plan! Very simple, nothing crazy. 420 calories per hour of @vitargo. Additional water as needed, plus 1-2 licks of @baseperformance salt every ~15 min. This plan should be very manageable, especially considering temperatures for the bike will be in the 60's. . With guest host @rseggel ? . . #MaShR #underdogontherise #IMLP #IMLP2017 #ironmantri #pro_triathletes #nutrition #triathlon #trilife #swimbikerun #celebritystatus #vitargo #vitargos2 #vitargoathlete